This is certainly the right-hand panel of a diptych. It may be a part of a larger grouping, but so far I only know of one other print which can be paired with it. The first give away is the stone leg of a yukimi dōrō (雪見灯籠 or ゆきみ.どうろう) or snow viewing lantern. My suspicion was cinched when I ran across the left-hand panel in the wonderful collection at Waseda University which shows an onnagata either collapsed or kneeling on the ground.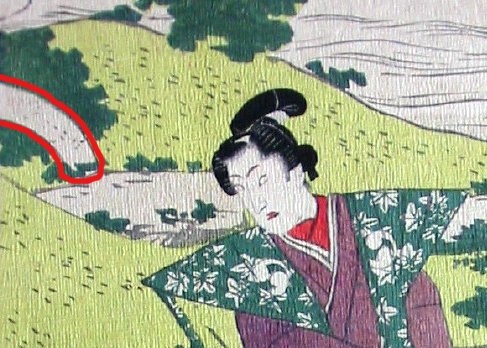 Note the crude red outline of the stone leg of the yukimi dōrō
in the detail from the print seen above.
Below are two details from a print by Hiroshige.
The one on the right is a fellow imitating a yukimi dōrō
while the one on the left is what you would see if
you were looking at him silhouetted from outside
casting a shadow on a shoji screen.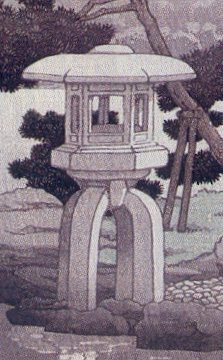 Above is a detail of a yukimi dōrō
from a print by Hasui from 1938.