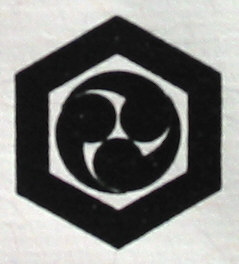 JAPANESE PRINTS
A MILLION QUESTIONS
TWO MILLION MYSTERIES
Ukiyo-e Prints
浮世絵版画
Port Townsend, Washington
UTAGAWA SADAHIDE*
歌川貞秀
うたがわ.さだひで
1807-1879**
Subject: Pilgrimage to the top of Fuji
Size: 14 3/4" x 10 1/8"
Publisher: Daikokuya Kinnosuke
版元: 大黒(国)屋金之助
はんもと: だいこくや.きんのすけ
Date: 1857, 5th Month
Ansei 4
安政4年
Signed: Gountei Sadahide hitsu
五雲亭貞秀筆
ごうんてい.さだひで.ひつ
Illustrated:
Another copy of this print is shown on line at the Boston Museum of Fine Arts
web site. Note that the Museum of Fine Arts displays online the entire triptych.
Our panel is from the right hand side. Ours is also far more colorful.
There is also another copy of the full triptych in the Noda Public Library in Japan
and at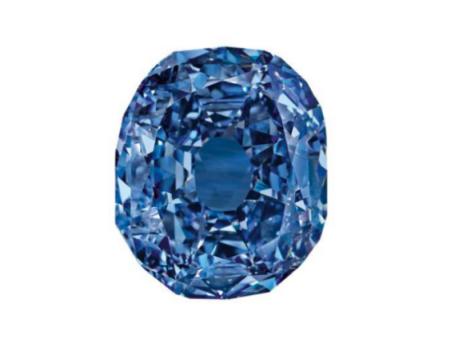 the Adachi Museum of Art.
Originally priced at $175.00
Now on sale for $121.00
SOLD!
*We have commented on other pages about the confusion which accompanies Japanese names and how they are used or adopted into Western languages. This is true here too. Although we have chosen to refer to this artist as Utagawa Sadahide a more thorough search on the Internet in Japanese can be found by looking under an alternative name: Gountei Sadahide. For whatever reason we have found that by cutting and pasting in the kanji characters for Gountei (五雲亭) at Google the results are far more successful than if we use the full name or by looking under Utagawa.
There is a wonderful series of volumes called Ukiyo-e Masterpieces in European Collections published by Kodansha. In these this artist is listed under Hashimoto Sadahide no matter how the prints are signed.
**Laurance Roberts in his A Dictionary of Japanese Artists (1976, p. 135) gives 1873 as the year Sadahide died. Richard Lane in his Images from the Floating World (1978, p. 318) repeats this. However, Japanese web sites give it as 1879 which is probably much more accurate. Julia Meech-Pekarik in her The World of the Meiji Print (1986, p. 14) is more cautious and gives a date which is on the cusp: "78/9." For these reasons we have chosen to follow the Japanese example until we are proven wrong.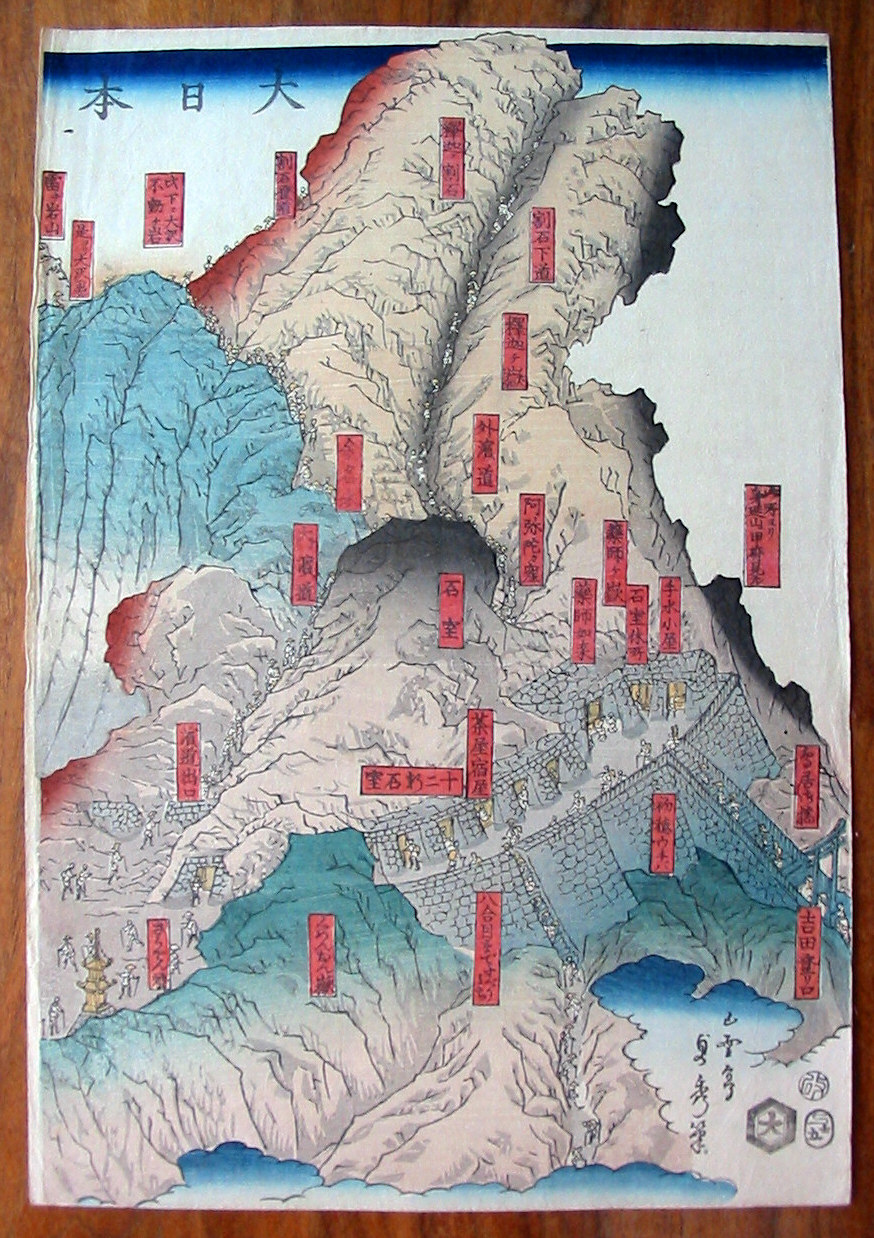 Two contributors, A.K. and E., have helped immensely with research on this page.
For that we are extremely grateful.
A MYSTERY SOLVED
Almost every print poses at least one problem to be solved. While some print images are more straightforward and less complex than others the majority are usually layered with symbolic and cultural references which are far removed from our understanding. Every art historian must play the junior Sherlock Holmes.
Julia Meech-Pekarik notes that Sadahide "...documented the growth of Yokohama, beginning in late 1859, with many painstakingly detailed panoramic aerial views based on meticulous geographical research. In plate 1 [of her book Sadahide]... has joined six sheets, but he sometimes used as many as nine sheets of paper, creating images six feet long." (1) This quote is most telling not for what it says about Yokohama, but what it emphasizes about the career of the artist: He often specialized in panoramic views.
In the American wing of the Metropolitan Museum of Art is a 360° diorama of the palace and gardens at Versailles painted by John Vanderlyn in 1818-19. It has a circular room to itself and in the center is a round, elevated, wooden platform. Standing there the viewer may have a sense of vertigo, but it is worth it. This project wasn't only meant to serve as a spectacle, but also a tool. It familiarized the viewer with a locale they might never have an opportunity to visit in person. Or it might prepare others for what they would see if they could travel to Europe. Or, it might even act as a memento. Sadahide's expansive views must have functioned in the same way.
The print featured on this page dates from the late 1840s twelve years before the Yokohama scene mentioned by Meech-Pekarik. However, it differs markedly in subject matter: religious/spiritual vs. urban/commercial. Most of the multiple series by Sadahide seem to fall into the latter category. However, there is another triptych by this artist in the Musée Guimet which is quasi-religious in nature. It too was published by Daikokuya Kinnosuke and probably dates from the same period. (2) It is entitled "Sakyamuni's Asceticism Towards Buddhadhood."
(1) The World of the Meiji Print: Impressions of a New Civilization, Julia Meech-Pekarik, Weatherhill, 1986, p. 14.
(2) Ukiyo-e Masterpieces in European Collections: Musée Guimet, Paris, II, supervised by Muneshige Narazaki, Kodansha, 1990, p. 198.
It is clear that this print was not meant to stand alone. It was originally married to two others which gave a fuller view of what the artist was trying to express. We have in stock one other print from this grouping, but which we have not yet posted. Thanks to information provided by E., one of our contributors, we now know the location and purpose of this print. Via e-mail he told us that it "shows pilgrims making the final ascent of Fuji."
Below is a detail from the unposted print which gives another part of the title.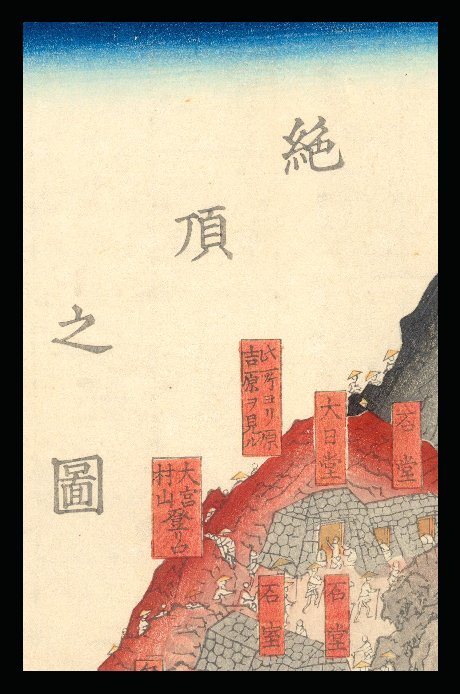 E's message reads in part: "The 'legend' in full seems clear Dai-nihon zetcho no zue, 'A picture of the topmost peak of Japan' and the most top left lable on the first print seems to [be] a variant of Fugaku-san. The ascent of Fuji is traditionally divided into ten (unequal) stages called go (with a long 'o') and the bottom right of your labels4jpg gives the eighth [hachigo-me] stage, where the ascent routes from Yoshida and Subashiri converge at 10,990 feet (the summit is 12.100 feet)."
Now we know - thanks to E.
Decades before Sadahide created his cartographical prints Hokusai was producing aerial views of various provinces. How he did this is quite beyond my understanding and how accurate they were is a question left to the experts, but no matter how he created quite a few of them.

The Japanese and Chinese had a long tradition, centuries old, of painting expansive scenes seen from above, but with various points of perspective all at the same time. Hokusai simply enlarged the scale. Sadahide followed this pattern and if you look carefully at the print offered on this page you will notice that you can look down, straight on and up in one sweeping glance. He even extended the top of the mountain into the unprinted border at the top as though the mountain was so large that it couldn't be contained. This increases its sense of scale.

The Hokusai detail shown immediately above is from a bird's-eye view of Kazusa and Awa Provinces circa the late 1810s.
| | | | | |
| --- | --- | --- | --- | --- |
| | | | | |
| | | Above is a detail from another panoramic view by Sadahide. This one is from a triptych dealing with a section of the Tokaido Road. | | |
| | | | | |
| --- | --- | --- | --- | --- |
| | | | | |
| | Above is a detail from a triptych by Kuniteru II showing pilgrims at the top of Mt. Fuji --- dated circa 1865. | | | |
| | | | | |
STONE HUT

石室

いしむろ

ISHIMURO

AMIDA

阿弥陀

あみだ

カ

ga

HOLLOW OR PIT

窪

くぼ

KUBO
| | | |
| --- | --- | --- |
| | | |
| | Above is a detail of pilgrims visiting Mt. Fuji. from another print by Sadahide and also from ca. 1847, but produced by a different publisher than the one featured on this page. These panoramic views were obviously meant as guides for such visits. | |
HAND WASHING

手水

ちょうず

CHOUZU

SHED

小屋

こや

KOYA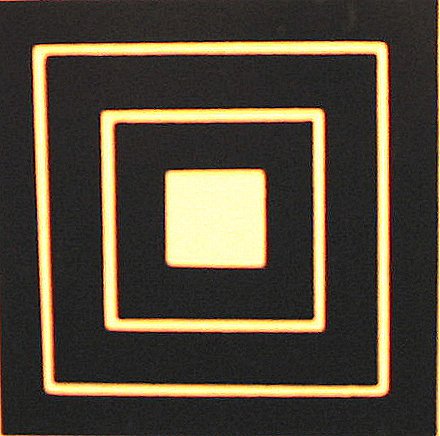 HOME