JAPANESE PRINTS
A MILLION QUESTIONS
TWO MILLION MYSTERIES
Ukiyo-e Prints
浮世絵版画
Port Townsend, Washington
UTAGAWA TOYOKUNI III

三代目歌川豊国

さんだい(目).うたがわ.とよくに

1786-1865

Actor: Iwai Kumesaburō

岩井粂三郎

いわい.くめさぶろう

Role: The geisha Oshun

芸者おしゆん

From

"Matches for the Seven Komachi Plays"

Mitate Nana Komachi no uchi

見立七小町ノ内

Signed: Toyokuni ga

署名: 豊国画

しょめい: とよくにが

Date: 7 th Month, 1858

Ansei 5

安政5

Size: 14 3/8" x 10 1/8"

Publisher: Shimizuya Naojirō

版元: 清水屋直次郎

はんもと: しみずや.なおじろう

Carver: As yet unidentified

Illustrated on-line:
There are other copies of this print at the

Tsubouchi Memorial Theatre Museum,

Waseda University,

the Museum of Fine Arts in Boston,

and in the National Museums of Scotland.

the Museum für Kunst und Gewerbe,

Hamburg and the

Hankyu Culture Foundation.

Condition: Excellent color, backed,

binding holes along the right side.

$185.00
There is something odd I just noticed about the series which includes this print: There are only two of them which show representations of women.
I would have thought that it would have been otherwise considering the title, but it isn't. How odd.
| | | | | |
| --- | --- | --- | --- | --- |
| To the right is a detail of the title cartouche. | | | View on the right of the backside of the print seen above. | |
OH SO SEXXXXY!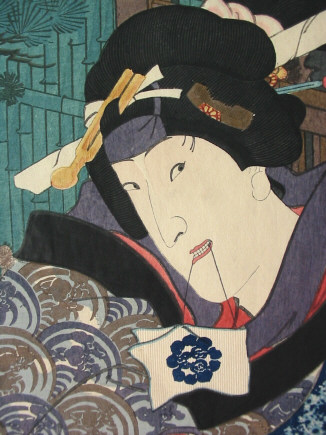 Different ages and different places have remarkably varied concepts of what is sexy and what is not. Our society's choices seems to change almost overnight. Tattoos and piercings? These don't do it for everybody. Perhaps many of these changes are due to our mass media and fashion industry, but that doesn't explain earlier standards. To say that tastes in what is sexy and what is not can be downright idiosyncratic.
"IN OLDEN DAYS A GLIMPSE OF STOCKING
WAS LOOKED ON AS SOMETHING SHOCKING"
Cole Porter said that in 1934 and added "...But now, God knows, Anything goes." What would he say about today in an age of free on-line pornography? There is an early 20th century saying "Twenty-three Skidoo." No one seems absolutely clear about its origin, but one story --- probably apocryphal --- is that when the Flatiron Building was erected in New York City in 1902 on 23rd Street the construction of it caused the winds to whip around the front of it. The skirts of passing young ladies were said to have been ruffled by this effect. Young men began to gather just to wait for "...a glimpse of stocking." Talk about titillation! Policemen had to be posted before the building just to tell the young men to "twenty-three skidoo!"
BUT WHAT DOES THIS HAVE TO DO WITH THE JAPANESE?
The Japanese are no different in their flexibility toward sexual turn ons. The nape of the neck may be the most famous example, but there are also many other standards: blackened teeth, whitened faces, shaved eyebrows, replacement eyebrows, plumpness, thinness and everything in between. If you read enough about Japanese prints you will find that the portrayal of the female mouth is a very potent sexual symbol --- especially if the figure is using her lips or teeth to hold an object such as the string of the purse seen above or the rolls of multi-purpose tissues. Any focus on the mouth could easily lead the mind of the viewer to wander and dream. Like the young American men who would stand around and wait for a glimpse of stocking because it hinted at so much more the Japanese viewed the representations of the female lips and teeth as just such a trigger.
Anyone who has visited my other web pages will realize by now that I have a fascination with the repetition of motifs. I have a vague memory from my studies of European art that Bernard Berenson supposedly could identify an unsigned painting by a Renaissance or pre-Renaissance artist merely by the shape of an ear or the curve of a lobe. While this is not fool proof it is true that every artist and craftsman has his own aesthetic vocabulary. That is why this box will focus on the motif of hand wringing.

Above is a detail from a print by Kunisada, aka Toyokuni III, from ca. 1820.

Above is another example of a Kunisada bijin tying a sash. Click on the image to see the full print.
Direct purchase may be made through check or money order or by payment through PayPal.