While the Kintoki/Kintarō character has a full set of folkloric tales devoted to him and his feats of derring do here he is merely one of four loyal retainers who accompany Minamoto Yorimitsu - also known as Raikō - in the pursuit and slaying of the great earth spider or tsuchigomo. Hence the prominent display of the giant web.
The prominent display of the kanji character kin for gold "金" on his costume is a dead giveaway as to his identity. Added to that is the deep and light pink shading of his naked torso which is meant to convey strength more than flab. Think of the power and physique of a great sumo wrestler.
Kintarō, aka Kaidōmaru, was the love child of one of the bodyguards of a tenth century Emperor and a beautiful young woman. However, the father fell into disgrace and eventually committed suicide. After the burial Kintarō's pregnant mother went to Ashigara mountain where he was born. Very soon it became clear that the child was imbued with superhuman powers. During one of his feats Yoshimitsu saw him and decided to raise the child himself. It was Yoshimitsu which gave him the name Kintoki.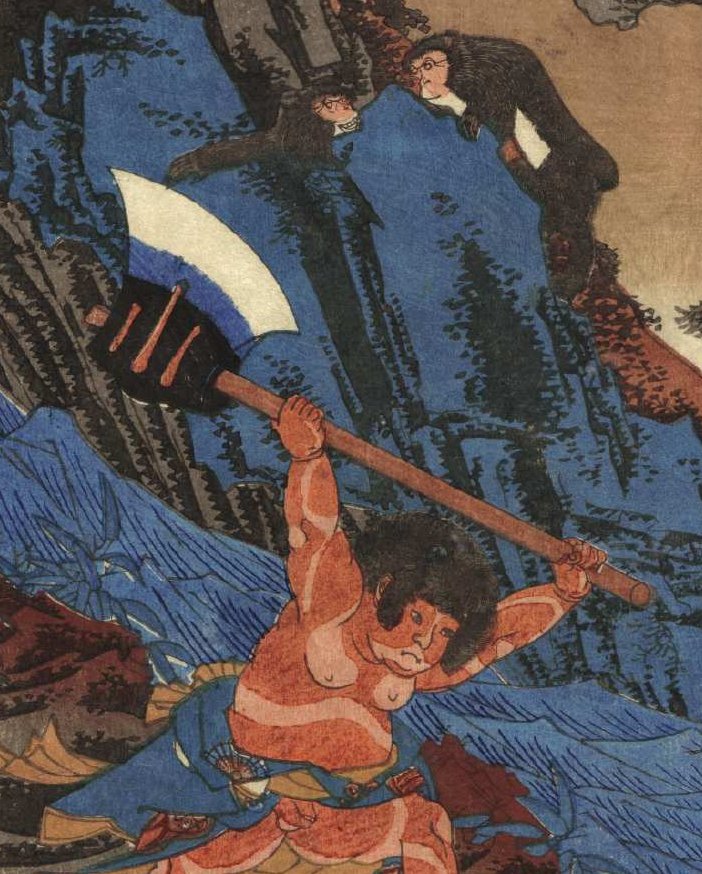 The detail above is from a print by Kuniyoshi showing one of the remarkable feats of
strength and bravery by the young Kintarō. This was sent to us by our friend D.
Thanks D!
NOTE: There are numerous versions of all of the myths built up around Kintarō.
None of them are set in stone. Don't settle on one as being the absolute example.