Recently, when I sold the print featured on this page, the buyer mentioned a story about the black lilies which I had never heard. Fortunately she was citing a source which I have - Mock Joya.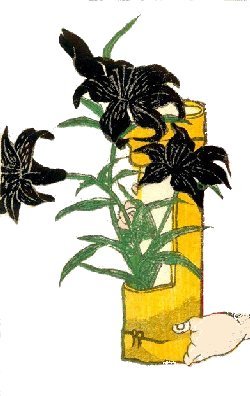 The black lily or kuro yuri (黒百合 or くろゆり) which is actually a very deep purple color is found on several high peaks in Japan. "This black lily has...a sad tradition. A local lord or Hokuriku district named Takezawa Kumashiro loved a young and beautiful girl named Sayuri. But he heard a rumor that Sayuryi was really in love with another man. In a fit of wrath, he killed Sayuri and her lover, and also punished 16 of their families. The spirit of Sayuri who was killed by the jealous man was reincarnated as the black lily."
Quote from: Mock Joya's Things Japanese, p. 352-3.
The Japanese are not alone in linking flowers to people - either real or mythical. The ancient Greeks had several examples. Apollo was in love with a youth named Hyacinth and one day while they were tossing a discus back and forth much the same way young American men throw frisbees Hyacinth was struck in the head and died. From his blood which spilled out grew the first hyacinth flower. The buyer of this print mentioned Narcissus who drowned for lust of himself after seeing his own reflection in the surface of a pond. Then there is the religious connection between the Virgin Mary and the white lily. I am sure there are several other examples, but off hand I can't remember what they are. If any of you know please get in touch.
To the left is a photograph of Hyacinthus orientalis 'Woodstock' shown courtesy of Paghat the Ratgirl at:
http://www.paghat.com/hyacinthuswoodstock.html
She offers a wonderful quote from John Milton: ""Young Hyacinth, born on Eurotas' strand, Young Hyacinth, the pride of Spartan land."
Paghat's is a wonderful site well worth a visit. It is much more than a botanical site. It is literate and fun and a combination of the two makes for a dynamite experience.
For more on the black lily go to our Kogai thru Kushōjin page.