Of course I have no way on knowing for sure, but I would be willing to bet that almost every language has its own hidden sexual puns and allusions.
We noted this on another page portraying a kabuki actor posed before a portable stand selling nihachi noodles.
(Click on the image below to go to that page and read about the sexual allusion between noodles and having sex with a purportedly sixteen year old girl.)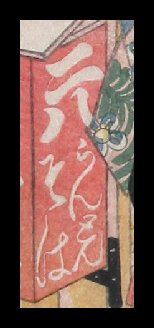 Recently I was listening to an interview on NPR with an expert in the classical languages. She stated confidently that there would be many more students of Latin
if they knew how bawdy the ancient texts could be. Japanese I am sure is no different. The term yobai (夜這い or よばい) means "night crawling"
as in "night crawling star". James Brandon in Kabuki: Five Classic Plays in the section on "Sukeroku: Flower of Edo" (U. of Hawaii Press, 1992 reprint, p. 86, note 22)
notes that yobai can mean either "secretly slipping in to see a girl at night" or "falling star".