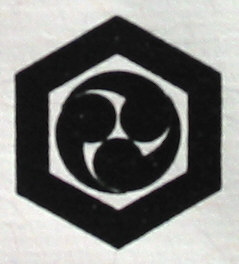 JAPANESE PRINTS
A MILLION QUESTIONS
TWO MILLION MYSTERIES
Ukiyo-e Prints
浮世絵版画
Port Townsend, Washington
None of the examples shown on this

page or future tattoo pages is for

sale - unless specified otherwise!
BAD BOYS AND THEIR TATTOOS:
TATTOOS IN JAPANESE PRINTS
-3-
THIS PAGE TOO IS A WORK IN PROGRESS.
COME BACK OCCASIONALLY TO SEE WHAT IS NEW.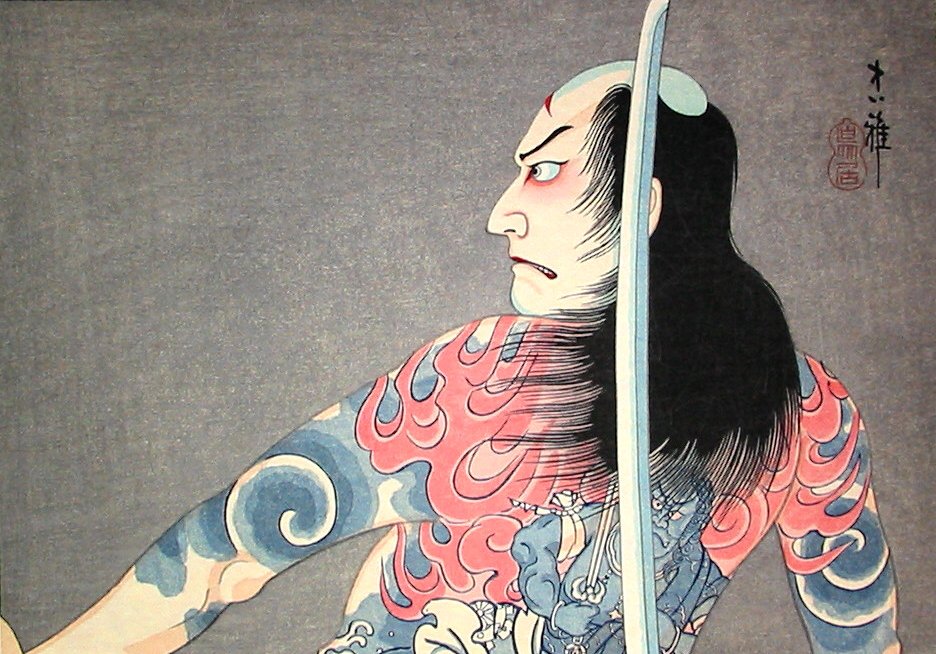 FUDŌ MYŌŌ
THIS IS A CHICKEN AND EGG ISSUE
OR IS IT
EGG AND CHICKEN?
***
KUNIYOSHI
AND THE ART OF TATTOO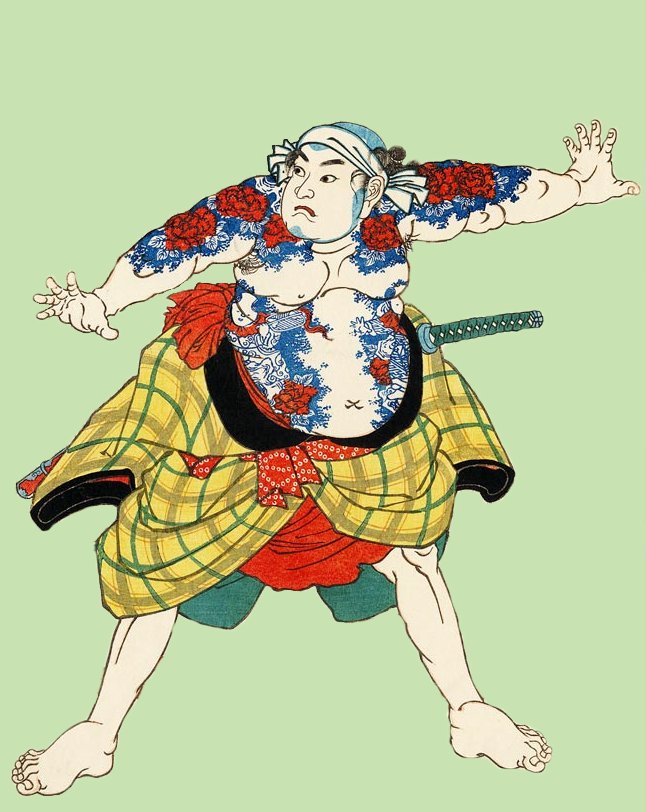 In the article on tattoos in the Kodansha Encyclopedia of Japan (vol. 7, p. 350) John E. Thayer III wrote under the heading "The Edo Explosion": "On the basis of such humble antecedents, it is not easy to explain the sudden and full-blown appearance of the uniquely Japanese 'full body' tattoo in the 1820s and 1830s."
Thayer argued that the time was ripe for the explosion in tattoo art. Class distinctions were becoming more pronounced. The warrior class had remained in power although it had grown financially poorer. By contrast there was an increasingly literate merchant class which was interested in bold colors and dramatic theatrical themes. "It was at this point, in 1805, that Takizawa Bakin began to publish...a translation of the Chinese picaresque novel know in Japanese as Suikoden...The Water Margin...which deals with the adventures of daring outlaws of the Robin Hood type. It was about this time that...Utagawa Kuniyoshi published the first five sheets of what was to become his most popular series, Tsūzoku suikoden gōketsu hyakuhachinin, '108 Heroes of the Suikoden.' Both book and prints were immediate successes. Significantly, 17 of the heroes were dramatically tattooed, a fact odd in itself, since tattoos are almost unknown among the Chinese." Soon other artists were illustrating tattooed heroes. "The tattoo boom had begun, in print and in person."
"The question remains whether it was Kuniyoshi (along with Bakin) who created the vogue of the full-body tattoo or whether he was only the publicist, stimulating, and giving direction to an existing trend. The answer might have been found in the tattooists' records destroyed by the Meiji police. But there is no question that it was Kuniyoshi who, with his bold colors and dramatic designs, set the canons of Japanese tattoo art."
PLEASE NOTE: While the image above is by Kuniyoshi it does not represent a Suikoden hero. At least I don't think it does. Whether it does or it doesn't isn't important here. What it does show is the fertility of Kuniyoshi's designs: Young Chinese boys holding fans surrounded by a field of flowers. What does it all mean? I haven't a clue. However, if I ever find out you will be among the first to know.
JIZŌ
The Saviour of Children
&
Those Suffering in Hell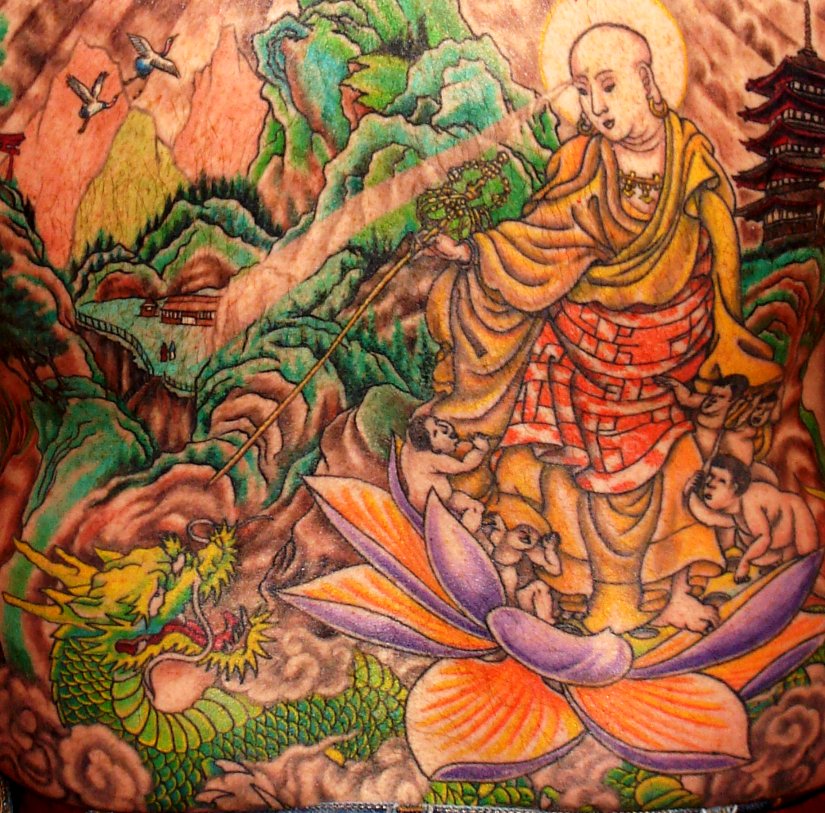 While this is not an example of a tattoo appearing on a traditional Japanese print it is a contemporary masterwork of body art based on a 19th century print by an unidentified artist. To be honest there are very few ukiyo representations of Jizō to be found anywhere. So, for several reasons, and with the permission of the person who is the owner and wearer of this elaborate piece, we have chosen to add it to this page. It is too good to pass up.
Below is a photo of the full back tattoo showing the Jizō element as only a part of an integrated whole.
This completion of this tattoo took several years. We want to thank the owner for letting us show
it here in all its glory.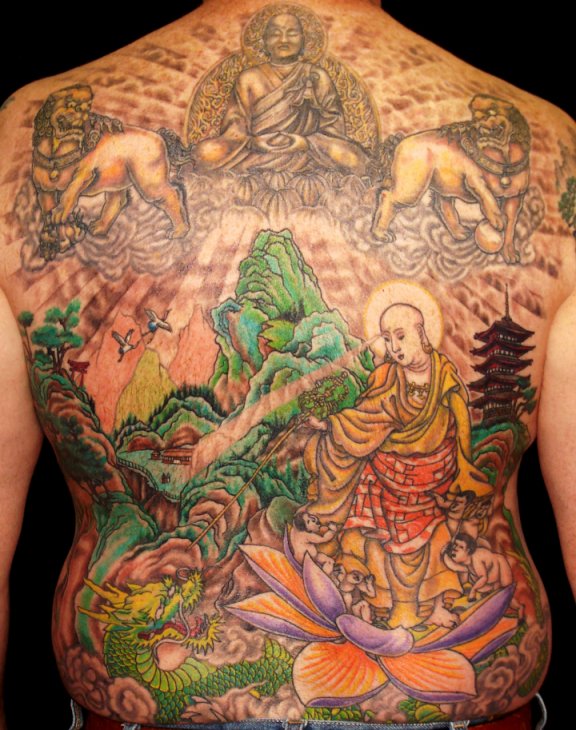 One further note:
According to Robert Rhodes the original Sanskrit name for Jizō means "womb of the earth".
Qutoed from: Kodansha Encyclopedia of Japan, vol. 4, p. 66.
Joseph M. Kitagawa writes extensively about the Jizō cult in his Religion in Japanese History (Columbia University Press, 1966, pp. 82-85). "Jizō was not a prominent bodhisattva originally, even though he was mentioned in the Sutra on the Buddha Names, in which Buddha enumerates Buddhas, bodhisattvas, and pratyekabuddhas, to the number of 11,093. Jizō became important as he came to be closely affiliated with Amida in China wheere he was known as Ti-tsang (the Treasure-chamber of the world)." Like Amida [阿弥陀 or あみだ] Jizō vowed not to attain Buddhahood "...until the last soul in hell might be redeemed." By the time of the T'ang dynasty Jizō represented a compassionate and gracious bodhisattva in the under world to whom the living prayed for the salvation of their deceased relatives.
In the earliest representation of Jizō in Japan he played a completely subsidiary role. "Actually, [his] importance was recognized only after Kūkai [空海 or くうかい] founded the Shingon [眞言 or しんごん] school early in the Heian period. Jizō found some prominent devotees, including the Emperor Seiwa and some court ladies..."
Like all religious figures there was a degree of syncretism mixing native beliefs in their kami or gods and that of the recently imported Buddhist pantheon. This was particularly true for the lower classes. The aristocrats looked to the Amida cult and its heavenly salvation. They already lived lives of privilege and could only conceive of things getting better while the peasant classes lived lives of deprivation and hardship from which they could only imagine the torments of hell. Hence, worship of Jizō became their means of salvation.
"As the divinity of the poor, Jizō took over the role of the traditional 'kami of the road' (Sae-no-kami or Sai-no-kami) who was believed to guard the turning points of highways." Naturally, by way of extension, the actual road became the road of life and beyond. "Even today the Japanese countryside is dotted with stone statues of Jizō, either at the roadside or in the neighborhood of akago-zuka (infant mounds). Evidently in the old days dead infants were buried in those unpretentious mounds, in the belief that they would be born again soon." And here is the kicker! "In the course of time, Jizō came to be regarded as the special protector of infants and children who had died - a function for which he was never held responsible in China."
JUST BECAUSE I CAN

Above is one of the best photos

I have ever been able to post.

Originally it was sent to me by a friend to show off his new grandchild. Since I felt it was so great I asked permission to add it to one my web log posts dealing with skeletons, skull and bones in Japanese art and elsewhere. Click on the tattoo shown above to see more at that site.
LIONS AND TIGERS AND BEARS
OH MY!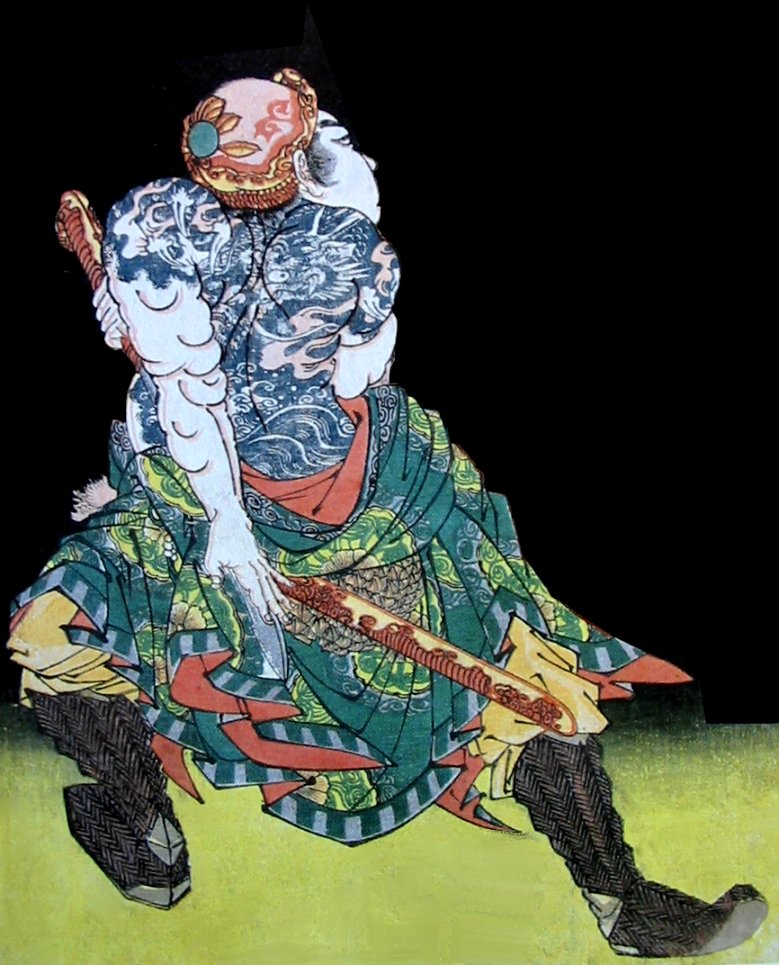 AND DRAGONS AND FISH AND GODS AND FLOWERS
AND LIGHTNING AND TOMOES AND SCROLL DESIGNS
AND WAVES AND MONKEYS AND A HELL OF A LOT
OF OTHER THINGS TOO!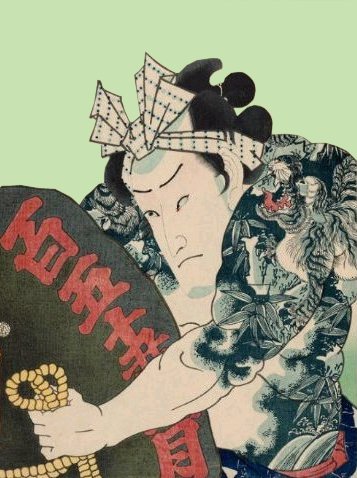 TIGERS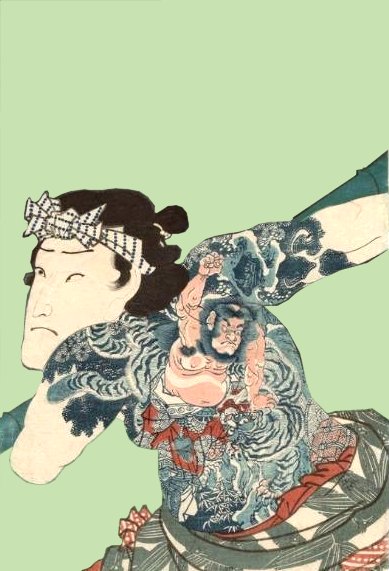 MAN vs BEAST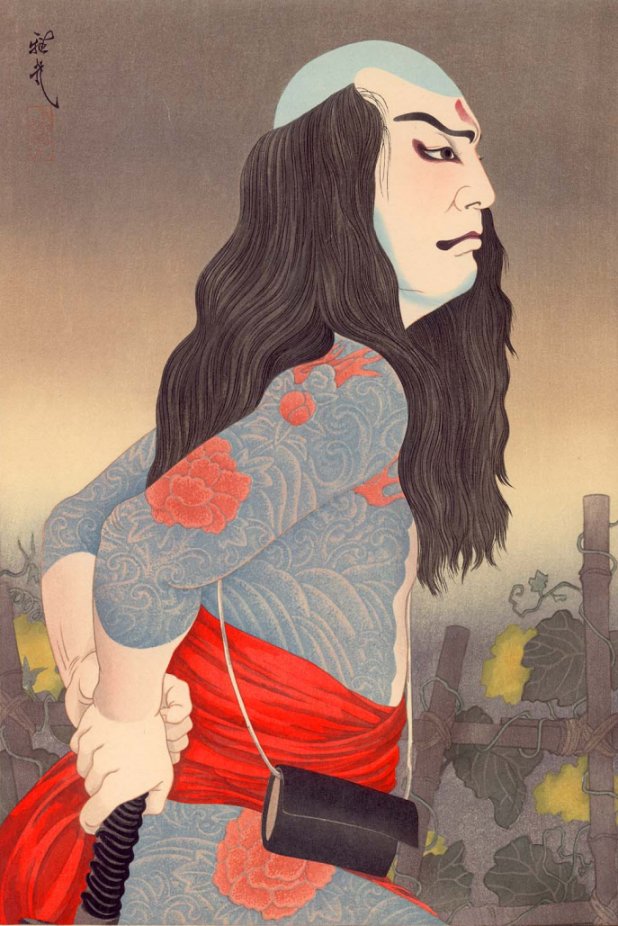 PEONIES AND WAVES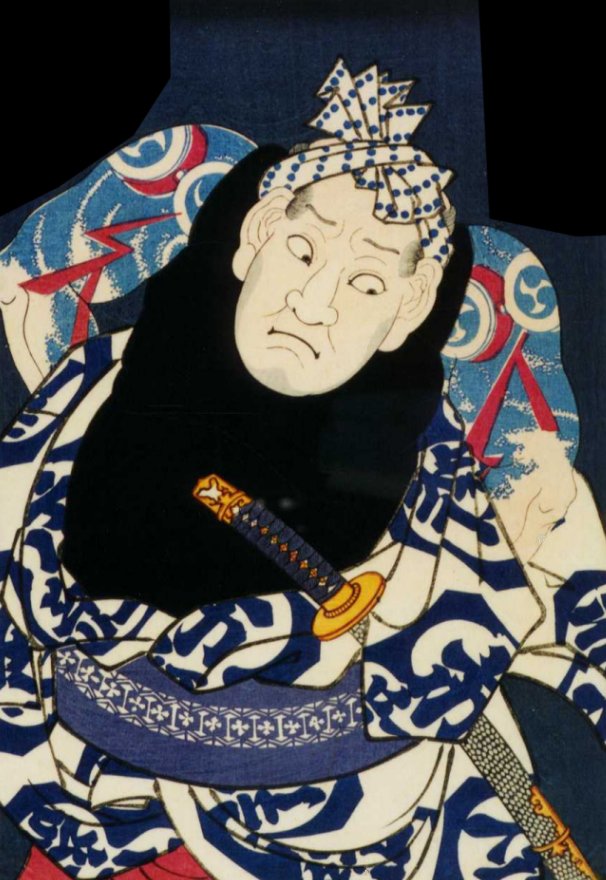 TOMOE DRUMS AND LIGHTNING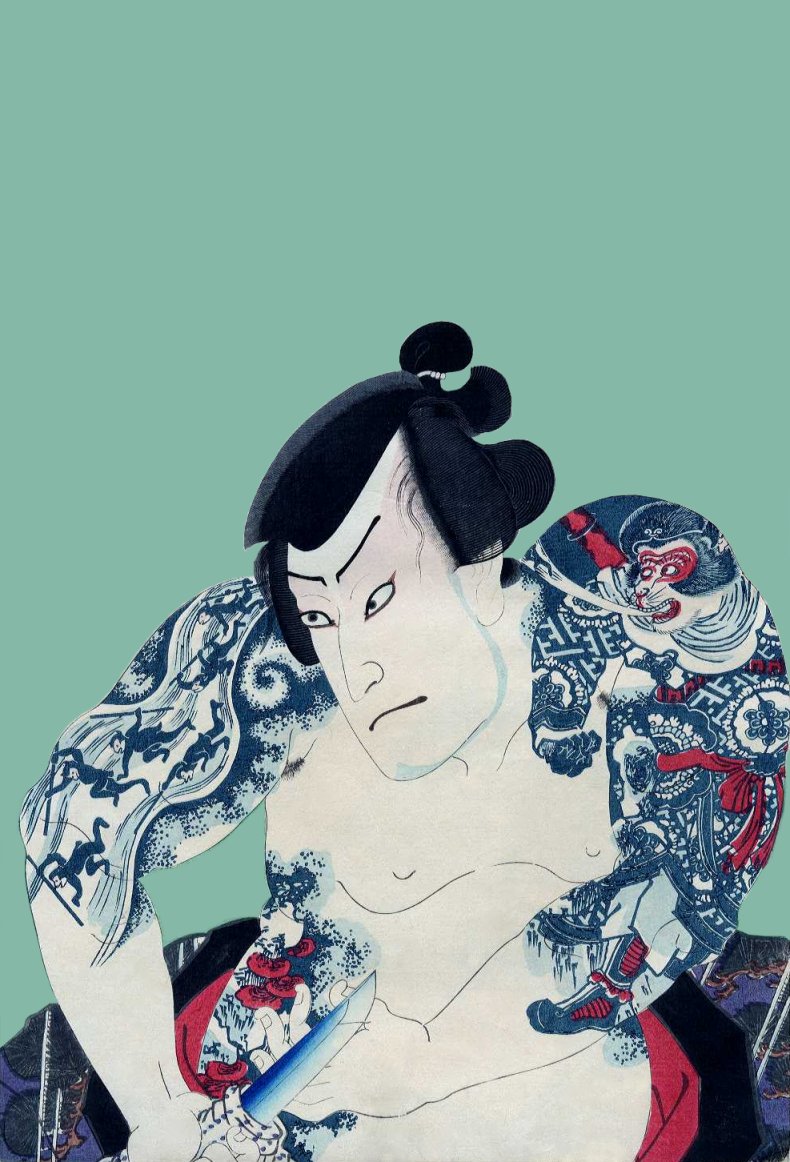 THE MONKEY KING
AND HIS
HAIRY MONKEY ARMY

IT TAKES A REAL MAN
TO WEAR FLOWERS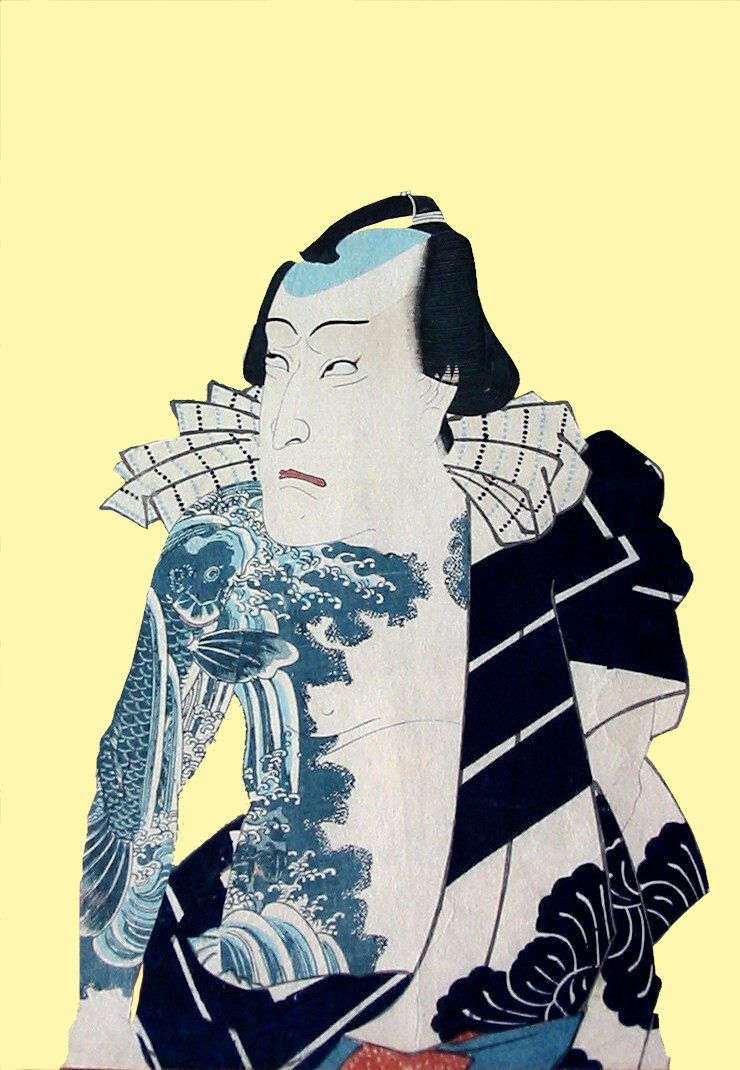 LEAPING FISH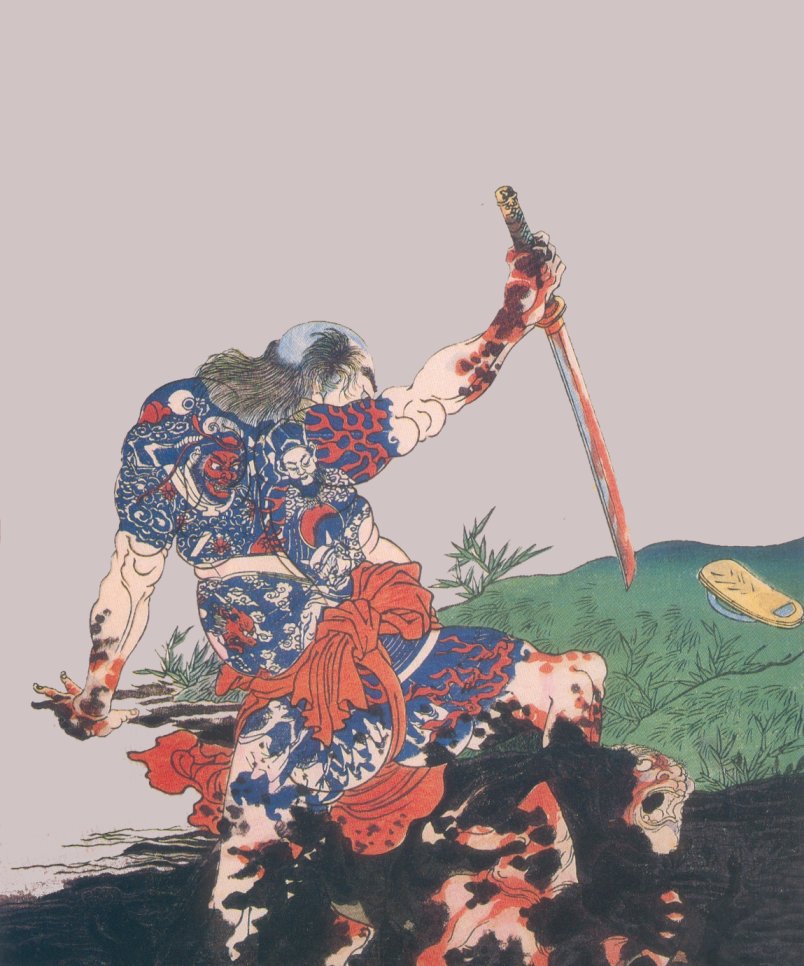 EMMA-O KING OF HELL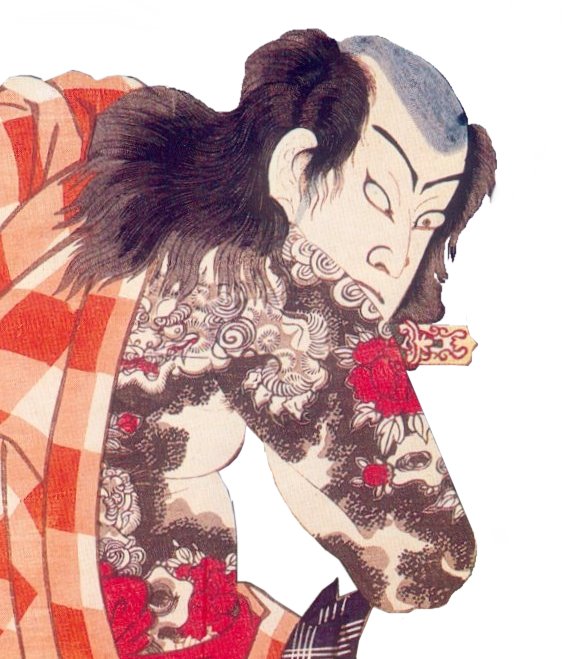 LIONS AND PEONIES
A JOCK SPARROW

AND HIS

IMPRESSIVE TATTOO

If the image above this one weren't unusual enough for you here is a detail from another Kuniyoshi print where all of the figures of daily life are portrayed by sparrows. The fellow to the left is a common laborer who is bringing up the back end of a kago or palanquin. Note the elaborate body art on that muscular dude....errrrr...I mean sparrow. Not a sight you see everyday, eh?
A REMARKABLY BIZARRE

IMAGE WITH A SUBTLE TATTOO

The image shown above is one of the most creative and exotic uses ever of a tattoo in a Japanese woodblock print. Designed by Kuniyoshi in ca. 1848 it not only shows the features of a man whose face is composed of a group of near naked bodies packed together like a group of fraternity brothers trying to cram themselves into a phone booth, but it also displays the tattoo on the left shoulder of one who forms the upper lip in a most subtle and creative way.

This image was sent to us by our generous contributor E. and for that we are extremely grateful.
BELOW ARE LINKS TO

THE OTHER THREE PAGES

DEVOTED TO BAD BOYS AND THEIR TATTOOS

CLICK ON THE IMAGES TO GO TO THOSE PAGES

PAGE ONE

PAGE TWO

has been removed.

PAGE FOUR
Any questions or comments? Please contact us.